Afternoon tea, that quintessentially British treat, has had something of a makeover in recent years.
It's not just fancy finger food and posh crockery these days. We've rounded up some of our favourite places for afternoon tea in London for about £40.00 per person, each with its own vibe, plus a couple of bargains and one splurge option.
The Wolseley, for traditional afternoon tea
If classic afternoon tea at its most traditional is your bag, then head to The Wolseley. The Mayfair Hotel serves up a taste of old London grandeur that looks like it would be right at home in an Agatha Christie adaptation. The cream tea includes fruit scones with jam and clotted cream; with the afternoon tea you also get finger sandwiches and cakes. Both come with a selection of their most popular teas.
Tea time: Monday–Friday: 3pm–6pm | Saturday–Sunday 3:30pm–6:30pm
Cream tea: £18.50
Afternoon tea: £39.50
Champagne afternoon tea: £55.00
160 Piccadilly, St. James's, London W1J 9EB, United Kingdom
Monday to Friday: 7 am to 11 pm | Saturday: 8 am to 11 pm | Sunday 8 am to 10 pm
Ladurée London, for afternoon tea with a French accent
Ladurée is a French tea room famous for its macarons; it has restaurants and shops all over the world, including seven locations in London. The Covent Garden tea room is one of the more elegant venues and includes a roof terrace overlooking the piazza for sunny afternoons. The macarons are a decidedly French addition, but they are so delicious that we will turn a blind eye.
The cream tea includes two scones (plain and fruit) served with seasonal Ladurée jam and clotted cream, two macarons of your choice and tea, coffee or hot chocolate. This summer the afternoon tea is in collaboration with Roseblood rosé from Provence and includes a glass of wine and the basic cream tea, along with finger sandwiches (salmon & cream cheese, and cucumber & mint) and two delicate French pastries.
Tea time: Daily: 2.30pm–6.30pm
Cream tea: £16.00
Afternoon tea: £42.00 (includes a glass of rosé)
Champagne afternoon tea: N/A
1 The Market, London WC2E 8RA, United Kingdom
Sunday to Thursday: 10 am to 10 pm | Friday to Saturday: 10 am to 11 pm
Dukes Hotel – for vegan afternoon tea
Dukes Hotel in Mayfair offers a range of afternoon teas from the traditional to the MarTEAni afternoon tea (yes, it's really spelled like that) and even a kids' version. Savoury options include finger sandwiches (think poached chicken, lemon and tarragon mayo on granary bread, and egg mayo and watercress on brioche) and a smoked salmon, cottage cheese and dill tart. Freshly-baked scones (plain and fruit) with strawberry jam and clotted cream are served alongside sweet delicacies such as a raspberry Eton mess, a choux bun with roasted apricot cream and a Baileys crémeaux.
But we haven't forgotten about our lovely vegan Cheapos; for plant-based clotted cream tea plus assorted treats, hit up the vegan afternoon tea. Savoury options include beetroot hummus, vegan feta & carrot on beetroot bread, and smoked aubergine and coriander on onion bread, while the sweet menu features chocolate cherry fudge cake and lemon drizzle cake. Afternoon tea wouldn't be complete without tea and there is a good selection, including royal breakfast tea, jasmine tea, green tea, white tea and assorted herbal infusions.
Tea time: Daily: 12pm–6pm
Cream tea: N/A
Afternoon tea: £39.50
Champagne afternoon tea: £49.50
MarTEAni afternoon tea: £52.50 (includes 3 mini gin martinis)
35 St James's Pl, St. James's, London SW1A 1NY, United Kingdom
The English Rose Café & Tea Shop, for a bargain afternoon tea
Moments from Buckingham Palace in Victoria is The English Rose Café & Tea Shop, an independent family-run café and tea shop with a traditional and absolutely bargainous afternoon tea. Inside, it's like going back in time to your nan's house with flowery wallpaper, mismatched chairs and cups and a decorative teapot tree.
The afternoon tea includes finger sandwiches, scones with clotted cream and jam, and a selection of homemade cakes, plus a hot drink of your choice. Grab a table outside if the weather's good or settle inside to take in the quirky, cosy atmosphere. Be warned, they don't take reservations so you might want to get there early.
Tea time: Daily: 12pm–4pm
Cream tea: £12.60 (served until 5pm)
Afternoon tea: £22.00
Champagne afternoon tea: technically N/A, but there is a prosecco version for £29.50
4 Lower Grosvenor Pl, London SW1W 0EJ
10am - 4pm, closed Tue/Wed
The Stafford, London, for an indulgent afternoon tea

Michelin-starred chef Lisa Goodwin-Allen and the Stafford's head pastry chef have devised the afternoon tea menu for this elegant London hotel. It is traditional meets creative: finger sandwiches of coronation chicken, smoked salmon, and ham with mustard mayo with a truffled egg and watercress brioche bun are served with plain and fruit scones, strawberry jam and whipped clotted cream, along with a savoury cheddar scone with soft cheese and chives.
So far, so delicious – here comes the level up. You now get to choose five seasonal cakes or pastries from a bespoke cake trolley, just in case you weren't feeling sufficiently VIP. There's the signature Earl Grey & honey layer cake, a cherry & coconut mousse or a coffee choux bun, but also a raspberry, apple & elderflower macaron, a lemon & basil tart and a vanilla & raspberry white mouse. (No, that's not a typo – it's an actual white mouse, not a mousse!)
Tea time: Daily: 12pm–5.30pm
Cream tea: £24.00
Afternoon tea: £70.00
Champagne afternoon tea: This is The Stafford, darling; which of the four available champagnes would you like? £87.00 – £129.00
10 Argyle St, London WC1H 8EG
MAP Maison, for afternoon tea with a Spanish twist
This one is basically the love child of afternoon tea and tapas. The savoury menu includes mini Iberico burgers, a red pepper & cream cheese tart, and sourdough baguette with buffalo mozzarella, Iberico ham & black olive tapenade. For sweet offerings, there are mini banoffee pies, red velvet cake, a selection of macarons and cheesecake shots. Teas include English breakfast, Earl Grey, organic chai, hibiscus, and Jade Tips green tea.
Tea time: Tuesday & Wednesday 5pm-7pm; Thursday 3pm-7pm; Friday 2pm-7pm; Saturday 12pm-5pm; Sunday 12pm-7pm
Cream tea: N/A
Afternoon tea: £27.50
Champagne afternoon tea: £37.50, plus there is a prosecco version for £32.50
321 Kingsland Rd, London E8 4DL, United Kingdom
Tuesday to Thursday: 3 pm to 1 am | Friday to Sunday 12 pm to 1 am | Closed Monday
The Park Grand London Lancaster Gate, for Indian-inspired afternoon tea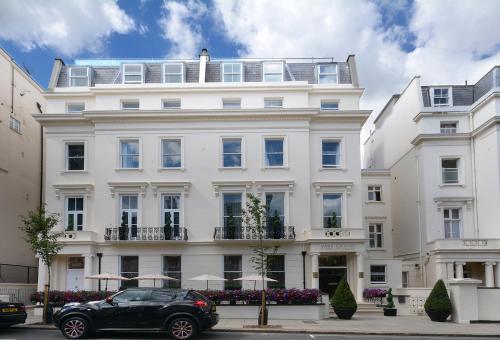 The Park Grand London Lancaster Gate is a more exotic option and especially good for veggies. The savoury menu includes a Bombay aloo bonda pav (a spicy potato croquette & chutneys wrapped in bread), assorted vegetable samosas and pakoras, a chicken tikka sandwich and a paneer kathi roll.
On the sweet section expect spiced sultana scones with jam and clotted cream, pots with three different mithai, and a mini mango kheer tart, with tea options including masala chai, Assam, Darjeeling and green tea.
Booking required at least 24 hours in advance.
Tea time: Contact the dining team to confirm times
Cream tea: N/A
Afternoon tea: Price includes prosecco
Champagne afternoon tea: N/A, but the prosecco version is £45.00 for two – that's £22.50 each including fizz, a top Cheapo find! (There is an additional £3.00 per person weekend surcharge.)
14-16 Craven Hill, Lancaster Gate, London W2 3DU, United Kingdom
Enjoy, and tag us on Instagram – we'd love to share your afternoon!